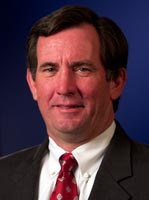 As Commissioner of Natural Resources, Mark Williams is the sixth person to head the Department of Natural Resources (DNR) and its approximately 1600 employees. DNR has statewide responsibilities for the management and conservation of Georgia's natural, historic and cultural resources, including fish and wildlife, land conservation, coastal resources, historic preservation, and sustainability initiatives. DNR protects and conserves Georgia's diverse wildlife populations and provides quality outdoor recreation through its management of more than one million acres of public lands in state parks, natural areas, public fishing areas and wildlife management areas.
Mr. Williams serves as Chairman of the Coastal Marshlands and Shore Protection Committees and serves on the Georgia Natural Resources Foundation, the Land Conservation Council, the Jekyll Island Authority, the Sapelo Island Heritage Authority, the Stone Mountain Memorial Association, the Governor's Water Supply Program Task Force, and the Georgia Aviation Authority boards. Mr. Williams was recently appointed to the Secretary of the Interior's Hunting and Shooting Sports Conservation Council in D. C. He is a director of Prime South Bank, past president of the Wayne County Chamber of Commerce and recipient of its 2011 Distinguished Service Award, past president of the Rotary Club, and served as chairman of the Wayne County Hospital Authority for four years. 
Mr. Williams represented the 178th district in the State House of Representatives for two terms from 2006-2010 and is a former high school teacher and football coach.  He is the co-owner of Harris Real Estate in Jesup and a veteran of the Army National Guard.
Born in Valdosta, Mr. Williams received a bachelor's degree in biology from Georgia College and State University. He is a member of Ducks Unlimited, the National Wild Turkey Federation, the Altamaha Wildlife Association, the Satilla Riverkeepers, the Flint Riverkeepers, the Georgia Wildlife Federation and the Piedmont Park Conservancy.
Mr. Williams and his wife Pam have two daughters, Mary Katelyn and Miranda. He is a proud grandparent to Mary Katelyn and her husband Troy's two sets of twins.
---
For more information on the Mission and Vision of the Department of Natural Resources, click here.