Location: The Landings, Skidaway Island
These cameras follow ospreys nesting beside the Palmetto golf course at The Landings, a community on Skidaway Island near Savannah.
While great horned owls visited the nest often this winter, a pair of ospreys are nesting there now. The female laid three eggs, one each on March 5, 8 and 11. The first chick hatched April 13, and the second on April 16. The third egg did not hatch. But both of the chicks survived. The elder sibling took its first flight June 12; the younger fledged June 16.
Stay tuned as the young ospreys and their parents hang around the nest!
Also, here's a quick look at previous occupants:
In fall 2019, cam operators and volunteers built a nest in an adjacent because the old nest tree was dead and had to be cut down. An osprey pair soon took to the new nest and the female laid four eggs in March 2020.
One of those eggs was buried in the nest and rejected. The three viable eggs hatched in mid- to late April. Unfortunately, the third chick died a few days after hatching. The surviving chicks fledged on June 16.
In spring 2019, ospreys laid three eggs in March. All hatched and the young fledged in June.
Ospreys have nested here since 2017. In 2015 and 2016, great horned owls claimed the nest, raising two owlets each year.
That original nest was built by bald eagles.
The cameras feature DVR. Use the time bar to review video up to four hours ago. Click "Go Live" to return to live streaming.
Camera provider: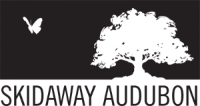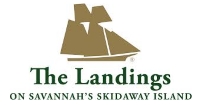 Also: Coastal Conservation Association Skidaway Island, Georgia Golf Course Superintendents Association, Georgia Golf Environmental Foundation, Ogeechee Audubon, HDonTap and Wild Birds Unlimited (Savannah)
---
More Information
Learn more about ospreys, or explore DNR efforts to conserve birds in the Wildlife Conservation Section's annual report.
Keep The Landings cams streaming!
Help conserve ospreys and other Georgia wildlife: